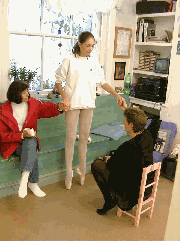 Esther Juon's articles were published in the 'Young Dancer' magazine. In the current year Esther and Lucy have lectured at the British Ballet Organization, at regional R.A.D. courses, at London's Children Ballet and at various ballet schools.

Pointe shoe fitting and Consultation £20.00
Subsequent fittings free

If you would like a fitting by Esther Juon, you need to do the following things.
Make an appointment for a 90 minute fitting.
Obtain your teacher's permission.
Bring your old Pointe shoes, pink tights, and a leotard.
Cut your toenails, make sure that you have clean feet and no blisters.
REMEMBER no fitting of pointe shoes can be carried out to blistered feet as the foot would never load centrally inside the shoe.