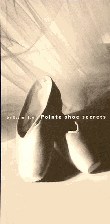 Pointe Shoe Secrets
is now out of print.
A new book is due 2006/7
At the same time, she became aware of a new pointe shoe which had been designed after five years of medical research into why dancers' feet became so badly injured. These shoes are still made in the traditional way, but they support the foot deliberately through the metatarsal heads, the longitudinal arch and the heel, combined with a better method of positioning the ribbons. They also have a roll-through principal built in, which allows the sole to flex in the exact place of the "demi-pointe" position. Esther had now found a shoe that would fit and support the foot correctly. These shoes are made by Grishko of Russia. She then met Nicolai Grishko in 1995 through Dominique Hill of IDS, the UK importer of Grishko pointe shoes. Esther presented her work to him and he invited her to be the fitter at the Dance World Exhibition in Earls Court, London, in the Spring of 1995.
During this time, Esther wrote a simple guide to the fitting of pointe shoes called "Pointe Shoe Secrets". The book was self published and only financially possible because of Evi Juon, Esther's sister. Evi is a graphic designer in Switzerland and kindly put the book together at an affordable cost. The book was launched at the Dance World Exhibition. Her book is now out of print and Esther is currently working on a new, updated version which should be available in 2006/7. Since then, Esther has been invited to write articles which have appeared in European Dance News, Dancing Times and Young Dancer magazine.