STAGE 1
To make this as simple as possible, use a tennis ball, fabric glue, a pen and 2.5 metres of 25mm wide non-slip nylon ribbon.
Cut the ribbon in half only.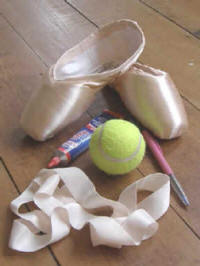 STAGE 2
Fold the heel piece of the pointe shoe down towards the inner sole, leaving a little pinching room.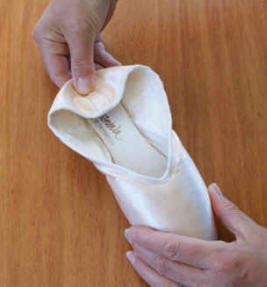 STAGE 3
Take a pen and draw a line along the inside of the folds, using the fold as a guide.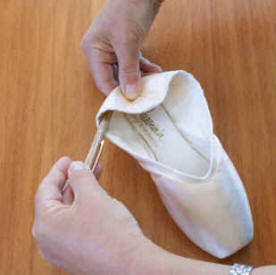 STAGE 4
Turn the heel of the shoe inside out over the tennis ball.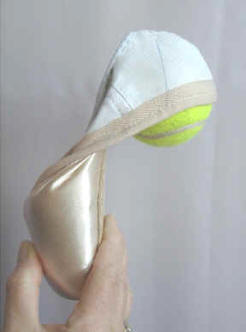 STAGE 5
Squeeze a small amount of fabric glue onto one side of the inside of the shoe
in front of the line.
It is easier to do one side at a time.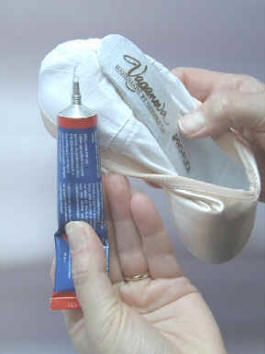 STAGE 6
Fold the ribbon in half and place to the centre of the heel seam. Pull the ribbon firmly along the line, gluing it to the stretched fabric of the heel.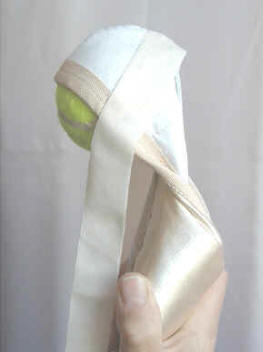 STAGE 7
Repeat this procedure on the other side of the shoe.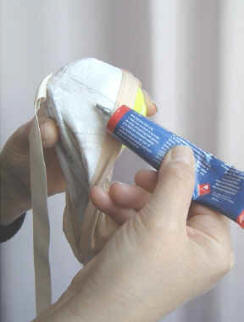 STAGE 8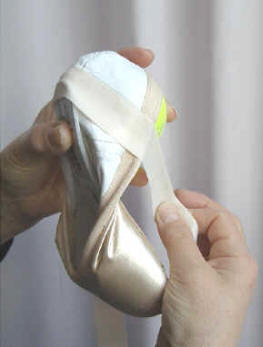 STAGE 9
When the glue has dried it is easy to the ribbon into place either by hand or with a sewing machine. Stitch through both pieces of fabric. The correctly placed ribbon will end up with the front edge lining up with the centre of the side seam.