Prepare your feet for Pointe Work!
A Five Hour Feet & Pointe Shoe Workshop
Next workshop date to be announced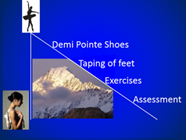 Morning Session: (2.5 hrs with a 15 min break)
Power Point Presentation with interaction. This includes basic anatomy of the foot, required pre-pointe preparation, strengthening exercises & how the foot should be supported on pointe.
.

Lunch: 60 minutes (BYO lunch)
.
.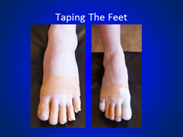 Afternoon Session: (2.5 hrs with a short break)
Learning how and why to tape your feet! Free roll of rigid strapping tape provided. Please bring your own scissors.
Exploring the practical benefits of taping your feet for class.
.
Questions & Answers Session: